**Spoilers ahead for Hannibal, as well as Sherlock.**
Hey, guys! You know that show about solving crimes where the two male leads are really gay for each other and they have a cop friend who is so done with everything and there's an iconic scene about falling off of high stuff and all the seasons end on huge cliffhangers and the last episode kind of ends abruptly but left the internet in an uproar?
So to heal from my extreme disappointment of the last season of BBC Sherlock, I've been delving into NBC Hannibal to cope. It's not the best substitute because while it is a mystery thriller revolving around the Very Heterosexual Friendship of two men, Johnlock is about two broken men who are best friends and heal each other, while Hannigram is, as I've mentioned before, about a psychopathic cannibal preying on the fragile sanity of an already unstable criminal profiler to turn him into a killer like himself – not exactly the poster child for a healthy relationship.
But you know what's not a unhealthy relationship? Hannibal creator Bryan Fuller and his Fannibals. Unlike certain showrunners I could name, Fuller actually owns up to the homoerotic subtext he purposely puts into his show – and never shames or ridicules fans for shipping Will and Hannibal. Hell, he does it for us!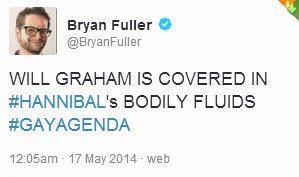 Yeah, it's really great. Especially opposed to –
Like, REALLY, Mark Gatiss? REALLY? Was that comment absolutely necessary????
Sherlock is a testosterone-fueled, white-washed melodrama that started out amazing, and then got so far up its own ass it became a gross parody of itself. Its ultimate lesson is that you should forgive your abusers and that if you're different, you don't deserve to have love, no matter how much of yourself you've given for it (Mary very nearly kills Sherlock and John welcomes her back with open arms and Sherlock's evil sister Eurus gets a hug from him even though she murdered his childhood best friend and almost does the same to John; meanwhile, Mary dies and John nearly beats to Sherlock to death even though it's not his fault at all). Hannibal is a gorgeous piece of art that unapologetically paints a destructive love story in all its twisted beauty.
So yeah, Hannibal and its creators are the best. I highly recommend it.